Learn how to search the WSRB Filings Library to find the filing you need. The Filings Library is where you will find circulars.
In this article, you'll find answers to these questions:
What does the WSRB Filings Library contain?
The Filings Library gives you access to a PDF of every filing WSRB has made over the past 25 years with the Washington State Office of the Insurance Commissioner.
When WSRB makes these filings, we publish a circular, so the Filings Library is where you find circulars. To learn how to sign up to receive a notification whenever WSRB publishes a new circular, click here.
How do I search the Filings Library?
2. From the menu bar at the top of the screen, hover your mouse over "Compliance," and select "Filings Library."

3. You'll see the search screen.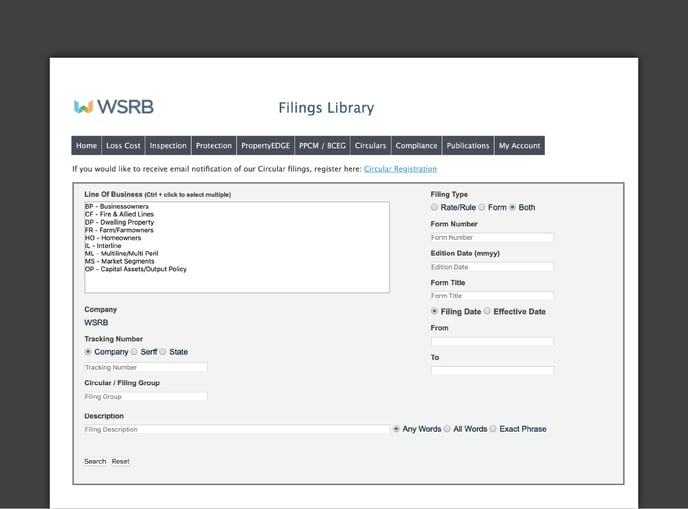 4. To get all available WSRB filings, don't make any selections or enter text in any of the boxes. Just click "Search."

5. To get filings for a specific line of business:

Select the line in the box. To select multiple lines, hold down the "Ctrl" key while selecting. Once you've made your selections, click "Search."
6. To get a circular from a specific year along with its related filing(s):

Enter the year in the "Circular / Filing Group" box and click "Search."
7. To view only those filings within a certain date range:

Select either "Filing Date" or "Effective Date," and enter dates in both the "From" and "To" boxes. Use mm/dd/yyyy for the format.
8. To get filings matching a description:

Select your search parameters ("Any Words," "All Words" or "Exact Phrase"), enter keywords into the "Description" box and click "Search."
How do I sort the results?
Your search results will automatically be sorted by effective date, with the most recently effective filings listed first.
The bottom of the search results screen will include sorting options, as shown below.

To change the sorting, select another option from the "Sort By" drop-down menu.

What do I do if I'm not getting the results I need?
If you aren't finding what you're looking for, try broadening your search. For example, if you searched for a Homeowners filing from 2018 that includes "earthquake" as a keyword and didn't get the result you wanted, try searching just for a Homeowners filing from 2018 or just a Homeowners filing. You may get a large number of results, but you'll be able to sort your search results so you can find the filing you need.
If you need further assistance, contact Customer Service at 206-217-0101 or by clicking here.
We're always striving to improve. If this article didn't answer your question, please let us know.