Learn how to find a Protection Class using the address search function and discover tips on how to get the best results.
In this article, you'll find answers to these questions:
How do I look up a Protection Class by address?
You can find the Protection Class for any property in Washington state using the Subscriber portion of our website. For information on how to get data for other states, click here.
1. Log in to WSRB.com with your user name and password.
2. From the menu at the top of your screen, select Protection.
3. You'll see the search screen.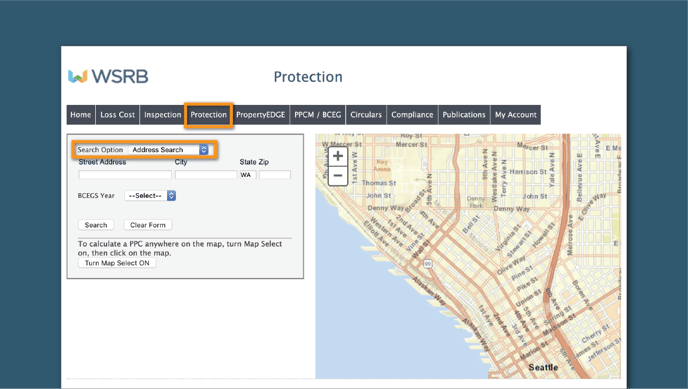 4. The "Search Option" box will default to "Address Search," so you can immediately enter the address you are searching for.
5. For the best and fastest results, follow these guidelines:
Enter a street address, without suite, unit or apartment numbers.
If you have the ZIP code, leave the city field blank.
If you don't have the ZIP code, enter the city but be sure to check your results for accuracy. If there are multiple, similar addresses in the same city, you may not get the results you want. For example, if you search for 710 2nd Ave. W., Seattle, WA, you will get results for 710 2nd Ave., Seattle, not 710 2nd Ave. W.
6. Unless you are specifically looking for BCEGS® (Building Code Effectiveness Grading Schedule) data, leave that search box as "Select."
7. Click "Search," and your results will display below the search box.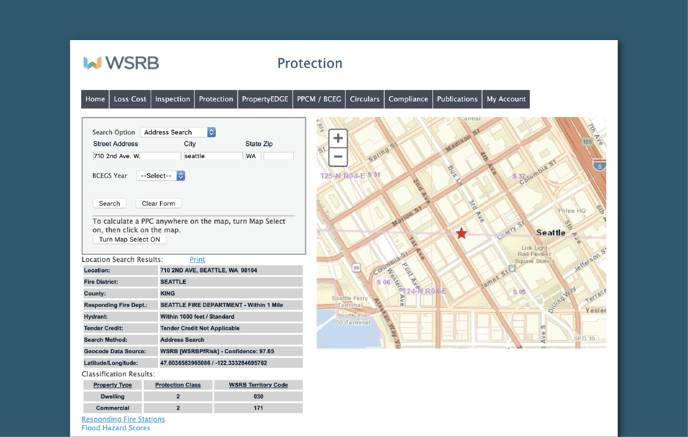 What do I do if I'm not getting the results I want?
Contact Product Solutions at 206-217-0101 or by clicking here. Our team is here to help.
We're always striving to improve. If this article didn't answer your question, please let us know.