Learn why we may not have a loss cost available for a property you're researching and what other data options you have.
In this article, you'll find answers to the following questions:
Why can't I find a loss cost for a property?
Sometimes, you may search for a property and not find an inspection report in either loss cost/Risk Search or PropertyEDGE.
In loss cost/Risk Search, you'll see the following message: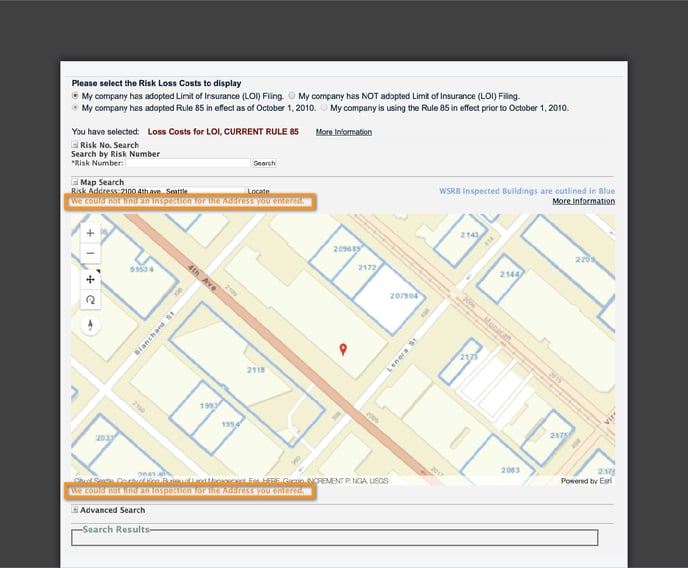 In PropertyEDGE, you'll see the address you entered is not outlined in blue and doesn't have a report icon and risk number. For example, if you search for 2100 4th Ave., Seattle, you'll see: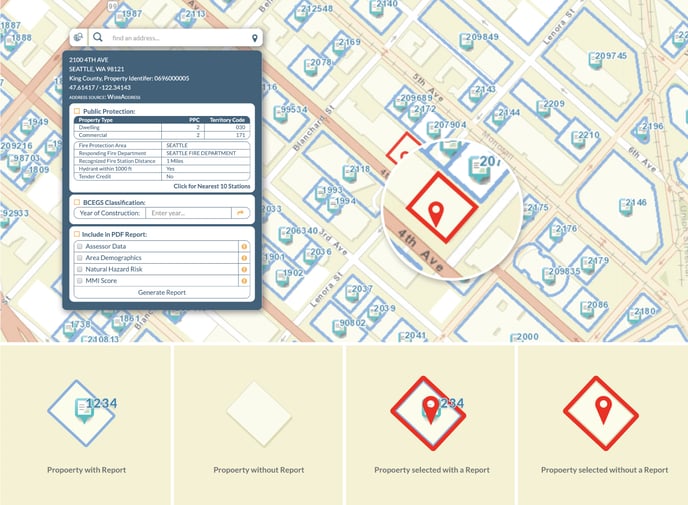 Loss costs are only available if WSRB has inspected a commercial building. WSRB only inspects buildings upon request. If you cannot find a loss cost for a property, either WSRB has not inspected the building or the inspection was conducted too long ago to still be considered accurate.
How can I request a loss cost for a property?
Subscribers may request inspections for any commercial building within Washington state.
To request an inspection, fill out the Request Inspection form. To access this form:
1. Log in to WSRB.com with your username and password.
2. From the menu at the top of the screen, hover your mouse over "Inspection" and click on "Request Inspection."



3. Fill out the form, being sure to complete all fields. Any missing information could delay your request.
Please note: Unless you require a Special Report or Custom Report, leave these boxes unchecked. If you have questions about the report options, contact our Product Solutions team at 206-217-0101 or by clicking here.
4. Submit the form.
5. You will see a screen with a tracking number you can use to check on the status of your request. Reference this number if you need to contact our Product Solutions team.
6. Once the inspection is complete and the report is available, an email will be sent with the loss cost and report. The email will go to the email address you provided on the form.
What can I do while I wait for the loss cost?
While you wait for the results of the inspection, you may calculate a tentative loss cost using our calculator. Find the calculator by hovering your mouse over "loss cost" and clicking on "Tentative loss cost."

If you have questions about how to use the tentative loss cost calculator, contact our Product Solutions team at 206-217-0101 or by clicking here.
We're always striving to improve. If this article didn't answer your question, please let us know.