An overview of WSRB's PropertyEDGE: what PropertyEDGE is and how you can use it to evaluate multiple risks in one place
In this article, you'll find answers to these questions:
What is PropertyEDGE?
PropertyEDGE is your single source for a wide range of property-related information. It includes everything you will find in our Protection and Loss Cost products along with additional features, including geographic overlays, measuring tools and more.
Why use PropertyEDGE?
It's a one-stop-shop. PropertyEDGE offers a collection of useful data, all in one place, saving you time.
You can search the way you want, with an address, a ZIP code or by pointing and clicking.
PropertyEDGE is expanding. For example, we're regularly adding hazard data nationwide.
How do I access PropertyEDGE?
PropertyEDGE is browser-based, so you can use it without installing any additional software. You simply log in. It works in many popular browsers but best in Chrome or Firefox.
After you log in to the WSRB subscriber portion of the site, click on the PropertyEDGE drop-down.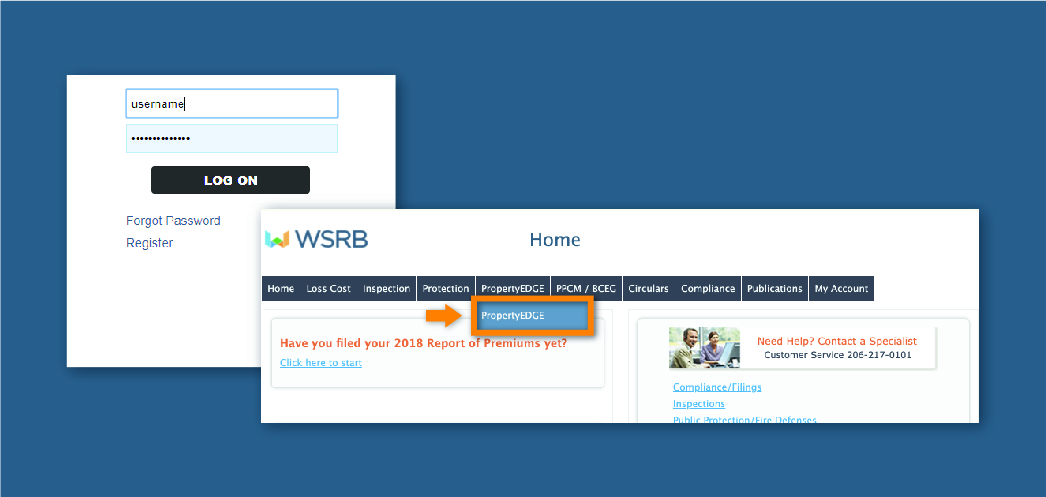 After you log in, you'll see: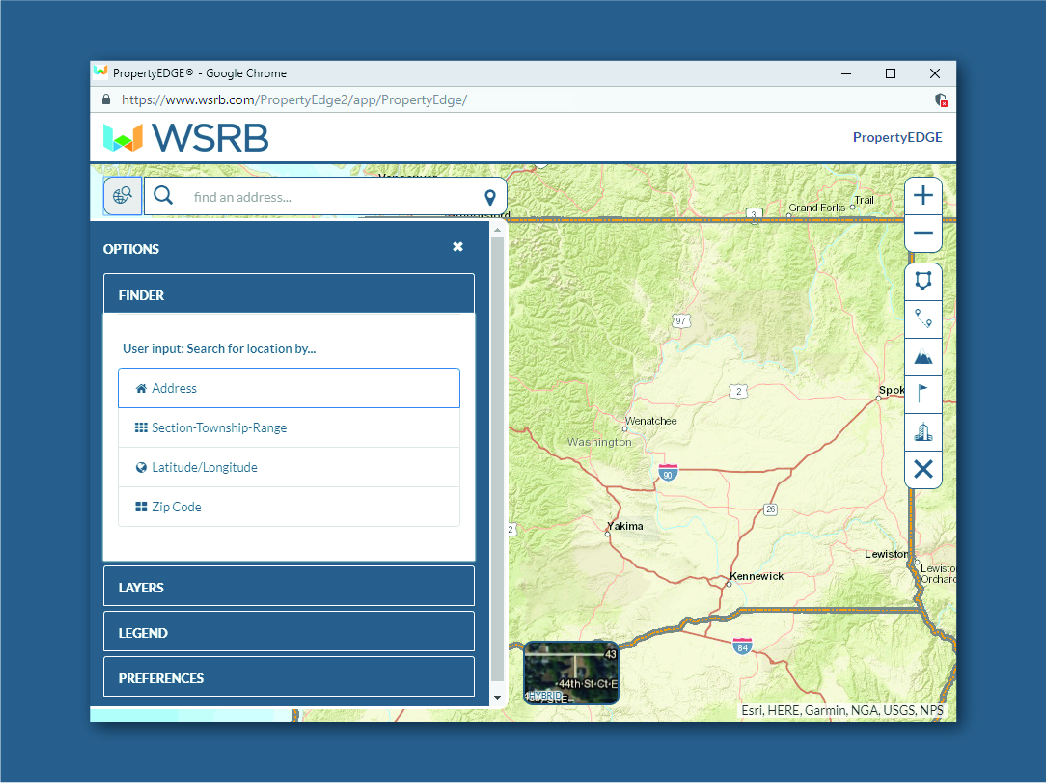 For more info on how to access PropertyEDGE, read this article.
What data and tools does PropertyEDGE include?
Protection data (Washington state only)
Responding fire station distance
List of fire stations within 10 road miles of the property
Fire station addresses, distance, responding, type, staffing and district
Hydrant within 1,000 feet of risk
Tender Credit
Building Code Effectiveness Grading Schedule (BCEGS®) Classification
Protection Class at risk, based on property type (Dwelling or Commercial)
Report generator (in PDF format for your risk file)
For more info on how to find Protection Class data in PropertyEDGE, click here.
For more info on how to get WSRB Commercial Property Reports in PropertyEDGE, click here.
Locating the fire stations within 10 road miles of the property
As an example, to locate the fire stations within 10 road miles of WSRB, type in the address 2101 4th Ave., Seattle in the search bar. Once the location is pulled, click on the "Click for Nearest 10 Stations" and you'll see the stations within 10 road miles to the property, up to 10 total stations.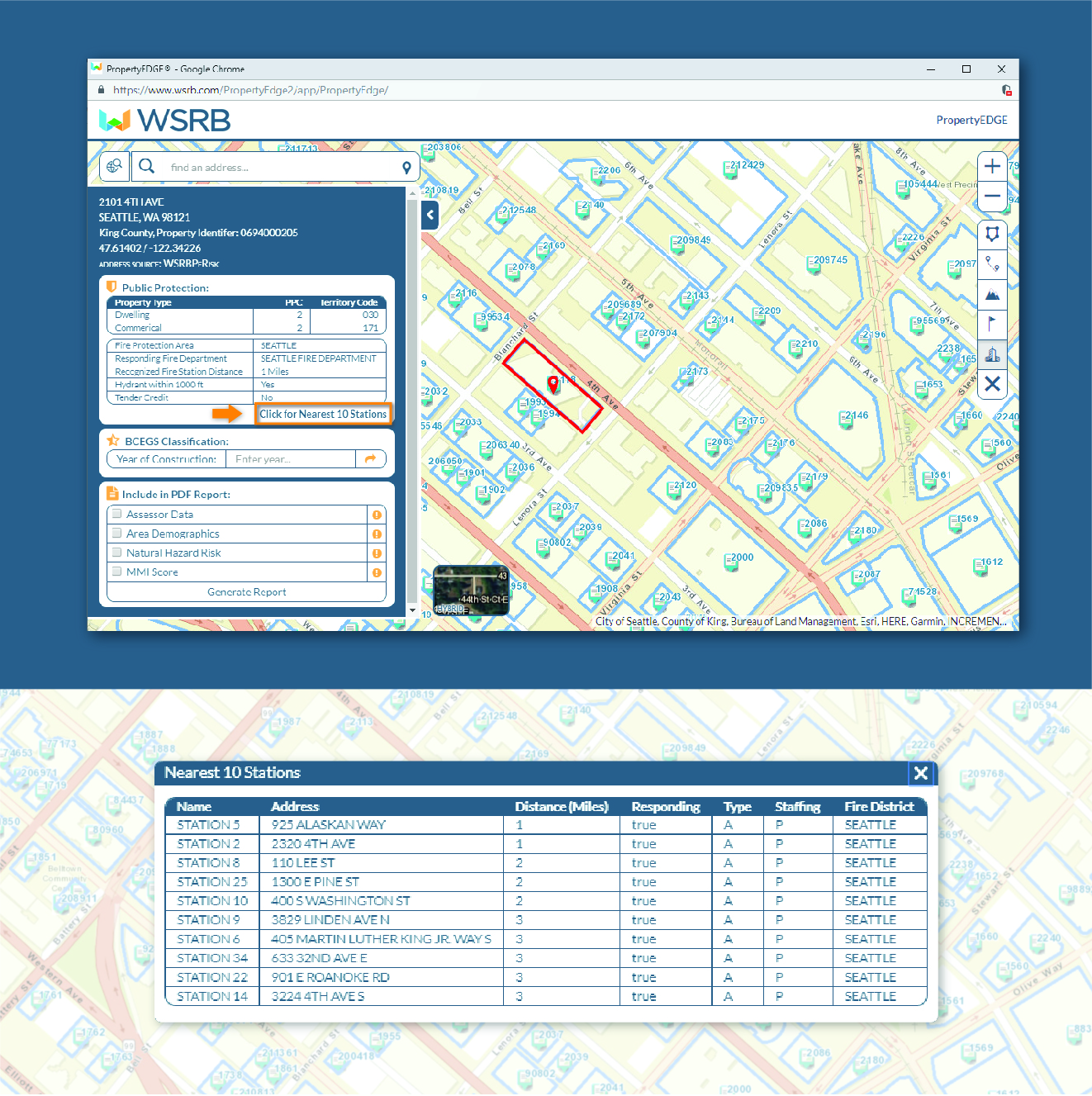 You have several ways to search for data in PropertyEDGE:
By address
Latitude/Longitude
ZIP Code
PropertyEDGE includes these data layers:
WSRB rated buildings
Parcel and Public Land labels
Administrative boundaries such as ZIP code, county and state
Natural hazards

Fault lines and buffers
Lahar presence
Soil types
Soil liquefaction susceptibility
FEMA flood zone outlines
Distance to coast
Tsunami info
Tornado track data
PropertyEDGE also includes additional data and tools:
Measuring tool for distances and area
Elevation calculation tool for measuring elevation and slope
Street and satellite photograph overlays
Google Street View
Census data
Fire department/station/info (available for a growing number of states)
For more info on how to get building reports in PropertyEDGE, click here.
We're always striving to improve. If this article didn't answer your question, please let us know.