Learn about the building reports available in PropertyEDGE and how to generate them
In this article, you'll find answers to these questions:
What are building reports in PropertyEDGE?
PropertyEDGE offers you the option to generate multiple reports on a building, in PDF, so you can easily save them. Note that these building reports differ from WSRB Commercial Property Reports, which provide details on a property WSRB has inspected. The building reports in PropertyEDGE contain information from public databases, as well as information from WSRB's and Building Metrix's proprietary risk hazard technology and other third-party sources.
To learn how to access WSRB Commercial Property Reports in PropertyEDGE, please see this article.
What building reports are available in PropertyEDGE?
The reports available are:
Assessor data:
Year built
Assessed value
Quality/condition of overall craftsmanship
Assessor data is available for select counties only, and is not available for all properties
Area demographics:
Population: total, percent male, percent female, density, growth rate, median age
Median home value
Median household income and net worth
Owner-occupied and renter-occupied housing
Area demographics data comes from the U.S. Census
Natural Hazard Risk data includes:
FEMA Flood Zone designations (for informational purposes only, not for certifying flood coverage)
Whether the property is in an identified potential tsunami zone
Distance to fault
Liquefaction
Lahar presence
MMI Score, or the Modified Mercalli Index, is a subjective measure of shaking, based on recorded earthquakes in the area. If you have PropertyEDGE generate the MMI Score for you, it will appear on the same page as the Natural Hazards Risk data.
How do I generate building reports in PropertyEDGE?
Enter an address into the address lookup line and press the enter key. The information panel on the left will slide out.
Select the reports you want.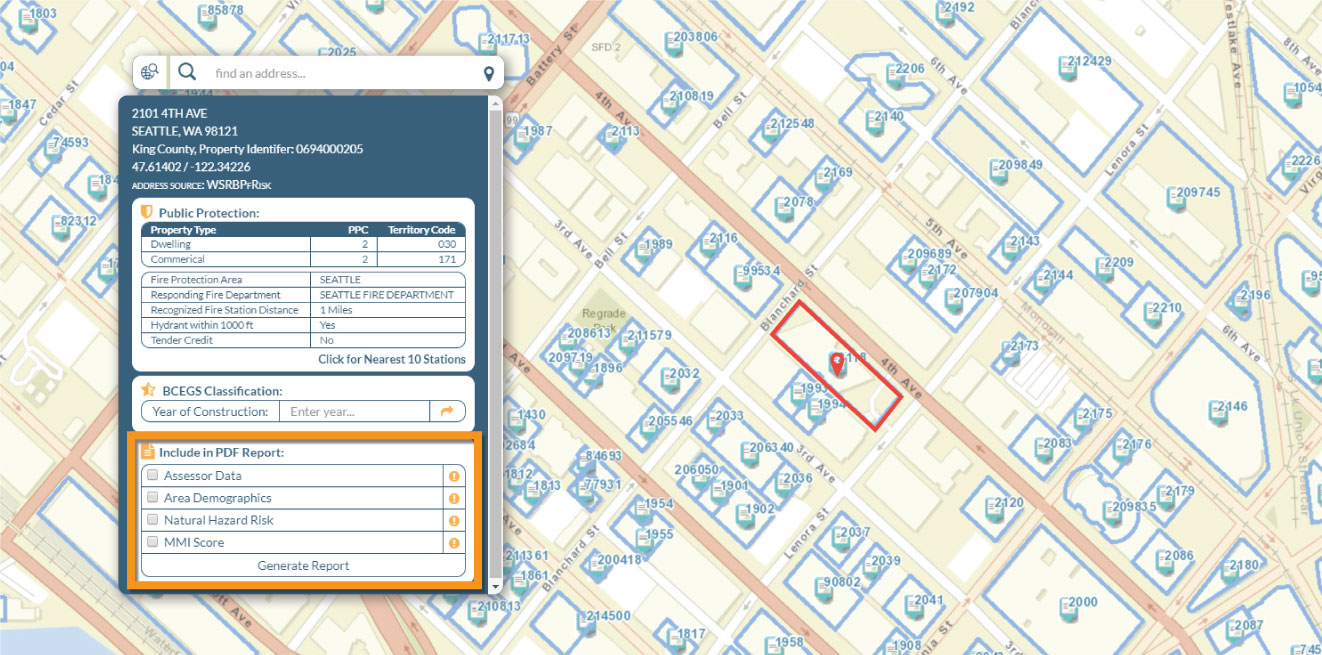 Click "Generate Report," and PropertyEDGE will prepare the reports. When the reports are ready, they will automatically download in a single PDF. If you don't see the PDF, check your browser's "Downloads" folder.
Please note: to get your reports, you will need to disable pop-up blockers.
We're always striving to improve. If this article didn't answer your question, please let us know.